Library Notes for July 20, 2023 
"Libraries store the energy that fuels the imagination. They open up windows to the world and inspire us to explore and achieve, and contribute to improving our quality of life." ~Sidney Sheldon 1917-2007 American writer and producer. 
This is Fine Forgiveness Month: During July, 1 nonperishable item donated = $1 off of your existing fines. All items will be given to Helping Hands. 
What's Happening at the Library:   
I Spy in July is back all month. Can you find all the items? 
Don't forget to check us out on Facebook, Instagram, and Pinterest.   
Hoopla is here! You can check out E-Books, E-Audios, E-Comics, Movies & more online.  
All Together Now Summer Reading Program for ages 2-12 every Wednesday in July at 10:30 & 12:30  
July 26th: Runaway Puppet Theater 10:30 & 12:30  
Family Events: July 17th-22nd Storywalk 
July 24th Puzzle Tournament 6:00  
Adult Summer Reading Book Club: July 20th "Bloomsbury Girls" by Natalie Jenner, at 6:00  
Pam's Pick this week is: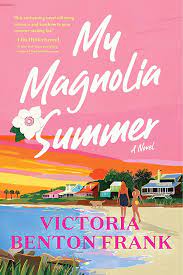 "My Magnolia Summer" by Victoria Benton Frank, this is the story of Maggie, who is struggling to find her place in the world. When she receives a phone call that brings her back home to Sullivan's Island, she finds the island holds many secrets for her to find. Can she find love too? 
New Fiction: "The Whispers" by Ashley Audrain, "The Wrong Good Deed" by Caroline B. Cooney, "The Paris Daughter" by Kristin Harmel, "Code of the Hills" by Chris Offutt, "Private Moscow" by James Patterson, "Inside Threat" by Matthew Quirk, and "Welcome to Beach Town" by Susan Wiggs, this book is also in large print. 
New Christian Fiction: "Double Indemnity" by Robert Whitlow. 
New Mystery: "Robert B. Parker's Bad Influence" by Alison Gaylin. 
New Reference Book: "The Associate Press Stylebook, 2022-2024." 
New Non-Fiction: "500 Great Ways to Save for Dummies" by AARP, "Is This Normal? :Judgement-Free Straight Talk About Your Body" by Jolene Brighten, and "Cookies, Bars & More: 201 Scrumptious Ideas for Snacks & Deserts" by Taste of Home. 
New Audio Books: "The Survivor" by Iris Johansen, and "Robert B. Parker's Bad Influence" by Alison Gaylin. 
New Movies: "Meet Cute," and "Disney's Strange World." 
New TV Season: "All Creatures Great & Small" season 1. 
Happy Summer Reading! 
Pam Metts, Director