Library Notes for December 7, 2023 
"The greatest gift in the passion for reading. It is cheap, it consoles, it excites, it gives you knowledge of the world and experience of a wide king. It is a moral illumination." ~ Elizabeth Hardwick 
Pam's Pick this week: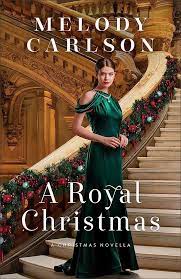 "A Royal Christmas" by Melody Carlson, this is the story of Adelaide Smith a no-nonsense law student. Who doesn't believe in fairytales. So when she learns she's the daughter of King Maximillian V, she is swept into a world filled with family mysteries. Will she live happily ever after?  
New fiction:  "The Little Liar" by Mitch Albom, "The Edge" by David Baldacci, "Tom Clancy Command and Control" by Marc Cameron, "Iwo, 26 Charlie" by P.T. Deutermann, "Every Duke Has His Day" by Suzanne Enoch, "Bright Young Women" by Jessica Knoll, "The Girl in the Vault" by Michael Ledwidge, "Absolution" by Alice McDermott, "Christmas in Painted Pony Creek" by Linda Lael Miller, this is the fourth book in the Painted Pony Creek series, and also in large print, ""Inheritance" by Nora Roberts, this is the first book in the Lost Bride trilogy, "A Winter in New York" by Josie Silver, and "Christmas Presents" by Lisa Unger. 
New Christian Fiction: ""Sisters by the Sea" by Wanda Brunstetter, "You Make it Feel Like Christmas" by Toni Shiloh, and "The Secrets Beneath" by Kimberley Woodhouse, this is the first book in the Treasures of the Earth. 
New Large Print: "The Devil's Crossing" by William W. Johnstone, this is the fourth book in the Preacher and Jamie MacCallister. 
New Biographies: "Class" by Stephanie Land, and "My Name is Barbra" by Barbra Streisand. 
New Non-Fiction: "Christmas Cooking From the Heart" by Better Homes & Gardens, "Kindom Focus: Rethinking Today in Light of Eternity" by Tony Evans, "Stay Sane is an Insane World" by Greg Harden, "Taste of Home Christmas 2023," "The Masters: Conversations with Bono, Dylan, Garcia, Jagger, Lennon, Springsteen, Townshend" by Jann Wenner, "Outdoor Paint Techniques & Faux Finishes" by Marina Niven, "Behind the Screens" by Inaki Aliste Lizarralde, and "Teddy and Booker T. : How Two American Icons Blazed a Path for Racial Equality" by Brian Kilmeade. 
New Audio Books: "The Exchange" by John Grisham, "The Honeymoon Heist" by Brad Taylor, "Obsession" by Stuart Woods, "Wyoming Proud" by Diana Palmer. 
New Movies: "Deck the Heart," "The Nine Kittens of Christmas," "Shaun the Sheep: the Flight Before Christmas," "Coyote Creek Christmas," "Mission: Impossible: Dead Reckoning, Part 1," and "Blue Beetle." 
New TV Season: "The Crown" season 5, and "Joe Pickett" season 2. 
Happy Reading! 
Pam Metts