Library Notes for March 30, 2023 
"Read lots of books to your children. Books and novels with noble strong characters, and fables with great moral lessons. Books that fill their hearts and nourish their souls." ~Jeannie Fulbright 
Pam's Pick of the week: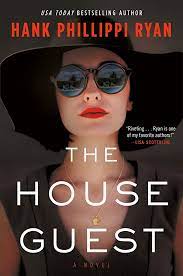 "The House Guest" by Hank Philippi Ryan, this is the story of love, revenge and betrayal. Alyssa could use a friend. After being dumped by her rich husband she was terrified that he would ruin her, leaving her penniless and alone. Alyssa makes friends with Bree who is running from a dangerous relationship herself. The two become confidantes. When Bree comes up with the idea they can solve each other's problems. Will Alyssa go along with the plan? 
New Fiction: "Little Paula" by V. C. Andrews, this is the second book in the Eden series, "I Will Find You" by Harlan Coben, "It's One of Us" by J.T. Ellison, "Every Man a King" by Walter Mosley, this is a sequel to "Down the River Unto the Sea," "Arch-Conspirator" by Veronica Roth, and "Two Steps Onward" by Graeme Simsion. 
New Large Print: "To Sir Phillip, With Love" by Julia Quinn, this is the fifth book in the Bridgerton series.  
New Christian Fiction: "Yesterday's Tides" by Roseanna M. White. 
New Mystery: "The Lies That Bind" by Karen MacInerney, this is the third book in the Snug Harbor series. 
New Biography: "Paris: the Memoir" by Paris Hilton. 
New Non-Fiction: "Life is 10% What Happens to You and 90% How You React" by Charles Swindoll, "Mayo Clinic A-Z Health Guide: What You Need to Know About Signs, Symptoms, Diagnosis & Treatment" and "Quilting Know-How: Techniques and Tips for All Levels of Skill From Beginner to Advanced" by Michael Caputo. 
New Audio Books: "It's One of Us" by J. T. Ellison, and "The Last Kingdom" by Steve Berry. 
New Movies: "Devotion," and "The Menu." 
New TV Season: "The Blacklist" season 4. 
 Happy Reading! 
Pam Metts, Director