Library Notes for April 5, 2023  
"I Think books are like people, in the sense that they'll turn up in your life when you most need them." ~ Emma Thompson  
What's Happening at the Library:  
Storytime every Wednesday at 10:30 with Ms. Katie  
RSVP are still doing TAXES until April 18th call for an appointment
Book Club April 20th in the basement at 6:00: "Gone Girl" by Gillian Flynn  
Check out our New Displays  
Sign up for our Newsletter  
Don't forget to check us out on Facebook, Instagram, and Pinterest.  
Pam's Pick this week is: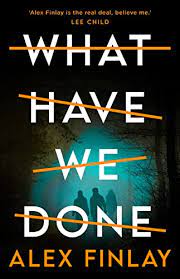 "What Have We Done" by Alex Finlay, this is the story of three desparate lives and one deadly secret. As teenagers Jenna, Donnie and Nico were best friends, at the group home for parentless teens. When the home shut down the three were split up. Each has led a successful but troubled life. Now they are reunited for a haunting reason someone is trying to kill them. But why?  
New Fiction: "All That is Mine I Carry with Me" by William Landay, "The Sister Effect" by Susan Mallery, this book is also in large print, "Symphony for a Deadly Throne" by E.J. Mellow this is the third book in the Mousai series, "The London Séance Society" by Sarah Penner, "Worthy Opponents" by Danielle Steel, this book is also in large print, and "Riding the Nightmare" by William W. Johnstone, this book is only in large print.  
New Christian Fiction: "Forged in Love" by Mary Connealy, this is the first book in the Wyoming Sunrise series.  
New Non-Fiction: "Social Security, Medicare & Government Pensions: Get the Most Out of Your Retirement & Medical Benefits" by Joseph Matthews, "Walk Through Fire: the Train Disaster that Changed America" by Yasmine Ali, "Freedom From Family Dysfunction: a Guide to Healing Families Battling Addiction or Mental Illness" by Kenneth Perlmutter, "Everyday Baking" by Better Homes & Garden, "Rock Painting Flowers, Cottages, Houses, and Towns: Step-by-Step Instructions, Techniques, and Ideas" by Lin Wellford.  
New Audio Books: "What Have We Done" by Alex Finlay, and "The Sister Effect" by Susan Mallery.  
New Movies: "The Old Way" and "I Wanna Dance with Somebody."  
New TV Season: "ER" season 7.
Happy Reading!  
Pam Metts, Director