Library Notes for July 12, 2023 
 "A library outranks any other one thing a community can do to benefit its people. It is a never failing spring in the desert."
― Andrew Carnegie 
What's Happening at the Library:   
I Spy in July is back all month. Can you find all the items? 
Don't forget to check us out on Facebook, Instagram, and Pinterest.   
Hoopla is here! You can check out E-Books, E-Audios, E-Comics, Movies & more online.  
All Together Now Summer Reading Program for ages 2-12 every Wednesday in July at 10:30 & 12:30  
July 26th: Runaway Puppet Theater 10:30 & 12:30  
Family Events: July 17th-22nd Storywalk; July 17th Movie Night "Monsters University" 6-8:30 
July 24th Puzzle Tournament 6:00  
Adult Summer Reading Book Club: July 20th "Bloomsbury Girls" by Natalie Jenner, at 6:00  
Pam's Pick this week is: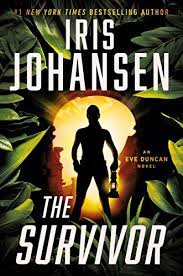 "The Survivor" by Iris Johansen, this is an Eve Duncan novel. Archeologist Riley Smith uncovers the perfectly preserved body of a female warrior in Southeast Asia. She enlists Eve to help her find the answers about this extraordinary past life. When Riley makes a discovery that may change history, she and Eve find themselves in danger. Can they survive long enough to share their new discovery with the world? 
New Fiction: "Rogue Justice" by Stacey Abrams, this is the second book in the Avery Keene series, "No Two Persons" Erica Bauermeister, "The Five-Star Weekend" by Elin Hilderbrand, "Trial" by Richard North Patterson, "The Only One Left" by Riley Sager, "Nemesis" by Wilbur Smith and "Zero Days" by Ruth Ware. 
New Christian Fiction: "The Laws of Attraction" by Mary Connealy, this is the second book in the Wyoming Sunrise series. 
New Mystery: "In Farm's Way" by Amanda Flower, this is the third book in the Farm to Table Mysteries. 
New Non-Fiction: "Mayo Clinic on High Blood Pressure" by Gary Schwartz, "The Complete Guide to DIY Greenhouses" by Black & Decker, "Reporting the Revolutionary War" by Todd Andrlik, and "More Curious Counties of Kentucky" by Steve Asher.  
New Audio Books: "Near Miss" by Stuart Woods, and "Zero Days" by Ruth Ware. 
New Movies: "Guy Ritchie's The Covenant," and "Barbie It Takes Two: Pop Star Plans." 
New TV Season: "Last Man Standing" season 2. 
Happy Summer Reading! 
Pam Metts, Director