Library Notes for July 27, 2023 
"Stolen moments with a book are never a waste of time." ~Jamie E. Davis 
This is Fine Forgiveness Month: During July, 1 nonperishable item donated = $1 off of your existing fines. All items will be given to Helping Hands. 
What's Happening at the Library:   
I Spy in July is back all month. Can you find all the items? 
Don't forget to check us out on Facebook, Instagram, and Pinterest.   
Hoopla is here! You can check out E-Books, E-Audios, E-Comics, Movies & more online.  
All Together Now Summer Reading Program for ages 2-12 every Wednesday in July at 10:30 & 12:30  
July 26th: Runaway Puppet Theater 10:30 & 12:30  
Adult Book Club: August 17, at 6:00 "Lark Ascending" by Silas House. 
Harry Potter Trivia Night: Monday, July 31th at 6:00. 
Pam's Pick this week: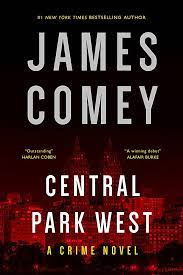 "Central Park West" by James Comey, this is a crime novel. Nora Carleton is a federal prosecutor who is trying to convict a mobster. But he has other plans. A note is passed to the prosecutor offering up information to blow the case wide open. Will the mobster get off?  
New Fiction: "The First Ladies" by Marie Benedict, "Flags on the Bayou" by James Lee Burke, "Whispers at Dusk" by Heather Graham, this is the first book in the Blackbird Trilogy, "Crow Mary" by Kathleen Grissom, "Obsessed: a Michael Bennett thriller" by James Patterson, "The Collector" by Daniel Silva, and "Palazzo" by Danielle Steel. 
New Christian Fiction: "The Best Summer of Our Lives" by Rachel Hauck, and "Fairest of Heart" by Karen Witemeyer, this is the first book in the Texas Ever After series.  
New Non-Fiction: "A Spy in Plain Sight: the Inside Story of the FBI and Robert Hanssen-America's Most Damaging Russian Spy" by Lis Wiehl, "Amish Friends One-Pan Wonders Cookbook" by Wanda E. Brunstetter, "Whole House Budget-Friendly DIY" Family Handyman, and "Decisions at Franklin: the Nineteen Critical Decisions That Defined the Battle" by Andrew Bledsoe. 
New Audio Books: "Private Moscow" by James Patterson, and "Palazzo" by Danielle Steel. 
New Movies: "Big George Foreman" and "Are You There God? It's Me, Margaret." 
New TV Season: "SpongeBob Squarepants" season 2.  
Happy Summer Reading! 
Pam Metts, Director