Library Notes August 3, 2023 
"A library is a miracle. A place where you can learn just about anything, for free. A place where your mind can come alive." ~Josh Hanagarne 
What's Happening at the Library:   
Don't forget to check us out on Facebook, Instagram, and Pinterest.   
Hoopla is here! You can check out E-Books, E-Audios, E-Comics, Movies & more online.  
Adult Book Club: August 17, at 6:00 "Lark Ascending" by Silas House. 
Pam's Pick this week is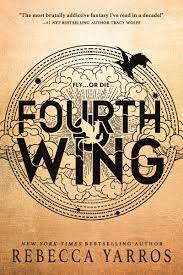 "Fourth Wing" by Rebecca Yarros, this is the first book in the Empyrean series.  Violet Sorrengail is supposed to enter the Scribe Quadrant to live a quiet life among books but the Commanding General orders her to joins the elite Navarre: the dragon riders. She will need to keep her wits because once she enters the Basgiath War College, there are only two ways out: graduate or die. 
New Fiction: "The Wind Knows My Name" by Isabel Allende, "The 9th Man" by Steve Berry, "The Spectacular" by Fiona Davis, "The Last Sinner" by Lisa Jackson, "After Death" by Dean Koontz, "Must Love Flowers" by Debbie Macomber, and "Famous in a Small Town" by Viola Shipman. 
New Large Print: "Texarkana: a Perley Gates Western" by William W. Johnstone, and "Palazzo" by Danielle Steel. 
New Christian Fiction: "Her Only Wish" by Shelley Shepard Gray, this is the second book in the A Season in Pinecraft, and also in large print. 
New Mystery: "Take the Honey and Run" by Jennie Marts, this is the first book in the Bee Keeping mystery series. 
New Biography: "Jackie: Public, Private, Secret" by J. Randy Taraborrelli. 
New Non-Fiction: "The Art Thief: a True Story of Love, Crime, and a Dangerous Obsession" by Michael Finkel, and "The Concise Guide to Bipolar Disorder" by Francis Mondimore. 
New Reference Book: "Nolo's Encyclopedia of Everyday Law: Answers to Your Most Frequently Asked Legal Questions." 
New Audio Books: "Obsessed" by James Patterson, and "The Paris Daughter" by Kristin Harmel. 
New Movies: "Dungeons & Dragons: Honor Among Thieves" and "Barbie: a Fashion Fairytale." 
New TV Season: "Bonanza" season 3 volume 1. 
Happy Summer Reading! 
Pam Metts, Director