Library Notes for August 10, 2023 
"One glance at a book and you hear the voice of another person, perhaps someone dead for 1,000 years. To read is to voyage through time." – Carl Sagan 
What's Happening at the Library:   
Don't forget to check us out on Facebook, Instagram, and Pinterest.   
Hoopla is here! You can check out E-Books, E-Audios, E-Comics, Movies & more online.  
Adult Book Club: August 17, at 6:00 "Lark Ascending" by Silas House. 
Game Night: August 21, at 5:30-7:30 in the basement. 
Pam's Pick this week is: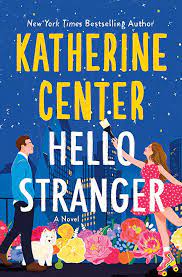 "Hello Stranger" by Katherine Center, this is the story of Sadie Montgomery a struggling artist. When she becomes a finalist in the North American Portrait Society competition she thinks she has it made. But the next thing she knows she is in a hospital bed diagnosed with a condition known as face blindness. She soon learns there are always other ways of seeing. 
New Fiction: "The Spare Room" by Andrea Bartz, "Robert Ludlum's the Bourne Defiance" by Brian Freeman, "The Missus" by E. L. James, "The Little Italian Hotel" by Phaedra Patrick, "The Dead Romantics" by Ashley Poston, "Dead Fall" by Brad Thor, "The Beach at Summerly" by Beatriz Williams, and "Queen Charlotte" by Julia Quinn, this is a Bridgerton Series novel and only in large print. 
New Christian Fiction: "The Heart's Choice" by Tracie Peterson, this is the first book in the Jewels of Kalispell series. 
New Mystery: "Pink Lemonade Cake Murder" by Joanne Fluke, this is a Hannah Swensen mystery. 
New Biography: "Tucker" by Chadwick Moore, the biography of Tucker Carlson. 
New Non-Fiction: "Unbroken Bonds of Battle: a Book of Heroism, Patriotism, and Friendship" by Johnny Joey Jones, "Women in White Coats: How the First Women Doctors Changed the World of Medicine" by Olivia Campbell, and "Barndominiums: Your Guide to a Perfect, Inexpensive Dream Home" by Chris Peterson. 
New Audio Books: "Flags on the Bayou" by James Lee Burke, and "Clive Cussler's Fire Strike" by Mike Maden. 
New CDs: "Scorpion" by Drake, and "Trustfall" by P!nk. 
New Movies: "Love Again," and "PBS Kids: Get Up and Dance!" 
New TV Season: "Grey's Anatomy" season 8. 
Happy Reading! 
Pam Metts, Director