Library Notes for August 17, 2023 
"Read the best books first, or you may not have a chance to read them at all." ~Henry David Thoreau. 
What's Happening at the Library:   
Don't forget to check us out on Facebook, Instagram, and Pinterest.   
Hoopla is here! You can check out E-Books, E-Audios, E-Comics, Movies & more online.  
Adult Book Club: August 17, at 6:00 "Lark Ascending" by Silas House. 
Game Night: August 21, at 5:30-7:30 in the basement. 
Book Sale: August 30-September 2, W-F 9:30-4:30 & Sat. 9:00-12:00 
Pam's Pick this week is: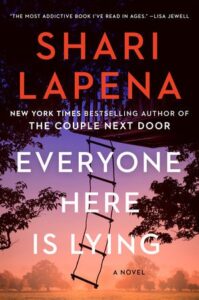 "Everyone Here is Lying" by Shari Lapena, this is the story of Avery Wooler, a very difficult 9 year-old. When she goes missing her family and neighbors are all under suspicion. When she shows up days later will they believe the story she tells?  
New Fiction: "Try Not to Breathe" by David Bell, "The Block Party" by Jamie Day, "Pineapple Street" by Jenny Jackson, "The Ghost Ship" by Kate Mosse, "The Bone Hacker" by Kathy Reichs, "All the Demons are Here" by Jake Tapper, "Crook Manifesto" by Colson Whitehead, and "The Next Best Day" by Sharon Sala, this book is only in large print. 
New Christian Fiction: "Letters of Trust" by Wanda Brunstetter, this is the first book in the Friendship Letters series. 
New Mystery: "Antiques Liquidation" by Barbara Allan, this is a Trash 'n' Treasures mystery, this book is only in large print.  
New Non-Fiction: "Taste of Home Make Ahead Favorites," "Hand-Stitched Quilts" by Carolyn Forster, "The Greatest Gambling Story Ever Told: a True Tale of Three Gamblers, the Kentucky Derby, and the Mexican Cartel" by Mark Paul, "Valiant Women: the Extraordinary American Servicewomen Who Helped Win World War II" by Lena Andrews. 
New Audio Books: "The 9th Man" by Steve Berry and "Must Love Flowers" by Debbie Macomber. 
New Movies: "Paint," and "Rip in Time." 
New TV Season: "1923" season 1. 
Happy Reading! 
Pam Metts, Director