Library Notes for September 6, 2023 
"The book to read is not the one that thinks for you but the one which makes you think." ~ Harper Lee 
What's Happening at the Library:   
Don't forget to check us out on Facebook, Instagram, and Pinterest.   
Hoopla is here! You can check out E-Books, E-Audios, E-Comics, Movies & more online.  
Book Sale: August 30-September 2, W-F 9:30-4:30 & Sat. 9:00-12:00 
Story Time with Ms. Katie every Wednesday at 10:30 
Libby/Hoopla Workshop: September 18th 3:00-4:30  
Game Night: September 18th 5:30 
BINGO: September 25th 5:30 
Pam's Pick this week is: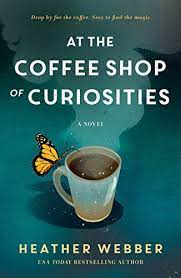 "At the Coffee Shop of Curiosities" by Heather Webber, this is a book of love, magic and mystery. Ava Harrison is not sure where her life is going after the death of her boyfriend. A letter in the mail offering her a job as a live-in caregiver, comes at just the right time. She sees this as a way to start a new life. When Ava meets Maggie Mae at the Magpie's, Driftwood's Coffee and Curiosity Shop they soon find they're kindred spirits, both haunted by the past. Can they learn to let go of the past to move on? Because sometimes change brings you to the place you need to be.  
New Fiction: "The Shadow Girls" by Alice Blanchard, this is the fourth book in the Natalie Lockhart series, "The First Death" by Kendra Elliot, this is the fourth book in the Columbia River series, "None of this is True" by Lisa Jewell, "Prom Mom" by Laura Lippman, "Ricochet" by Taylor Moore, this is the third book in the Garrett Kohl series, "Dead Mountain" by Preston & Child and "Ralph Compton Stagecoach Revenge" by D.B. Pulliam, this book in only in large print. 
New Christian Fiction: "A Gift to Cherish" by Victoria Bylin, this is the second book in the Road of Refuge series. 
New Mystery: "A Cryptic Clue" by Victoria Gilbert, this is the first book in the Hunter and Clewe series. 
New Biography: "Empress of the Nile: the Daredevil Archaeologist Who Saved Egypt's Ancient Temples from Destruction" by Lynne Olson. 
New Non-Fiction: "Asthma for Dummies" by William E. Berger, "Hometown Favorites" by Better Homes & Gardens, and "Cuba: an American History" by Ada Ferrer. 
New Audio Books: "Hello Beautiful" by Ann Napolitano, and "Happiness" by Danielle Steel. 
New Movies: "Sun, Sand, & Romance" and "Thomas & Friends: Back on Track." 
New TV Season: "Euphoria" season 2. 
Happy Reading! 
Pam Metts, Director