Library Notes for August 30, 2023 
"Nothing is pleasanter than exploring a library." ~Walter Savage Landor, 1775-1864, English writer and poet. 
It time to sign up for Story Time. Ms. Katie is getting ready for a wonderful year of Books, Crafts, and fun! Story Time will start at 10:30 on Wednesday, September 6th. 
What's Happening at the Library:   
Don't forget to check us out on Facebook, Instagram, and Pinterest.   
Hoopla is here! You can check out E-Books, E-Audios, E-Comics, Movies & more online.  
Book Sale: August 30-September 2, W-F 9:30-4:30 & Sat. 9:00-12:00 
Story Time with Ms. Katie every Wednesday at 10:30 
Game Night: September 18th 
BINGO: September 25th 
Pam's Pick this week is: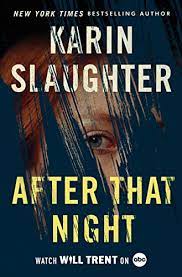 "After that Night" by Karin Slaughter, this is an electrifying thriller. Will Trent and Sara Linton are back together to solve a 15 year old mystery, involving Sara and a new victim. A young woman comes in the ER after being brutally attacked. Sara thinks the victim's case and hers may be linked.  
New Fiction: "The Last Dance" by Mark Billingham, "An Evil Heart" by Linda Castillo, this is a Kate Burkholder novel, "Gryphon in Light" by Mercedes Lackey, this is the first book in the Kelvren's Saga, "The Heaven & Earth Grocery Store" by James McBride, "Tom Lake" by Ann Patchett, and "Circle of Death" by James Patterson. 
New Large Print: "Remember Me" by Mary Balogh, this is the second book in the Ravenswood series and only in large print. 
New Christian Fiction: "Break of Day" by Colleen Coble, this is the third book in the Annie Pederson series. 
New Mystery: "Peg and Rose Stir Up Trouble" by Laurien Berenson, this is the second book in the Senior Sleuths series. 
New Non-Fiction: "The Simplest Pregnancy Book in the World" by S.M. Gross, "Highways and Heartaches: How Ricky Skaggs, Marty Stuart, and Children of the New South Saved the Soul of Country Music" by Michael Streissguth, "Fodor's Florida," and "Ira Hayes: the Akimel O'odham Warrior, World War II, and the Price of Heroism" by Tom Holm. 
New Audio Books: "The Collector" by Daniel Silva, and "Everyone Here is Lying" by Shari Lapena. 
New Music: "The Mockingbird & the Crow" by Hardy, and "One Thing at a Time" by Morgan Wallen. 
New Movies: "Beau is Afraid," and "Hotel Transylvania: Transformania." 
New TV Season: "Bones" season 8. 
Happy Reading! 
Pam Metts, Director