Library Notes for September 27, 2023 
"My two favorite things in life are libraries and bicycles. They both move people forward without wasting anything. The perfect day: riding a bike to the library." —Peter Golkin 
What's Happening at the Library:   
Don't forget to check us out on Facebook, Instagram, and Pinterest.   
Hoopla is here! You can check out E-Books, E-Audios, E-Comics, Movies & more online.  
Storytime with Ms. Katie every Wednesday at 10:30 
Craft Night: October 5th 5:30 decorate a stack of wooden books. Registration Required 
Book Club: October 19th 6:00 
Murder Mystery Game Night: October 23rd 5:30 Registration Required 
Pam's Pick this week is: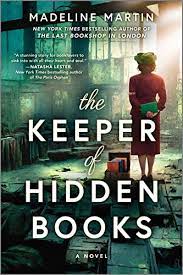 "The Keeper of Hidden Books" by Madeline Martin, this is the heartwarming story of the power of books. This book was inspired by the true story of the underground library in WWII Warsaw. Zofia finds comfort in books and her friend Janina. As the bombs fall she finds that now books are also in need of saving. Zofia must fight to save her friend and preserve her culture and community using the only weapon they have, literature. 
New Fiction: "Out of the Dawn" by P.C. Cast, this is the second book in the Into the Mist series, "The Armor of Light" by Ken Follett, "Cursed at Dawn" by Heather Graham, this is the third book in the Blackbird Trilogy, "Holly" by Stephen King, "Vince Flynn's Code Red" by Kyle Mills, "Silver Lady" by Mary Jo Putney, this is the first book in the Dangerous Gifts series, and "The Breakaway" by Jennifer Weiner. 
New Christian Fiction: "Countdown" by Lynette Eason, this is the fourth book in the Extreme Measures series. 
New Mystery: "Dressed to Drill" by Kate Carlisle, this is a Fixer-Upper mystery and only in large print. 
New Biography: "You Could Make This Place Beautiful" by Maggie Smith. 
New Non-fiction: "A Beginner's Guide to Quilting" by Michael Caputo, "Fodor's Washington, DC." And "Killing the Witches" by Bill O'Reilly. 
New Audio Books: "Dead Mountain" by Preston & Child, and "Lessons in Chemistry" by Bonnie Garmus. 
New Movies: "The Flash," and "The Little Mermaid." 
New TV Season: "Army Wives" season 5. 
Happy Reading! 
Pam Metts, Director