Library Notes for October 4, 2023
"Book lovers can teleport to different worlds; they just need a good book, a soft blanket, and a comfy chair." ~Jamie E. Davis
What's Happening at the Library:  
Don't forget to check us out on Facebook, Instagram, and Pinterest.  
Hoopla is here! You can check out E-Books, E-Audios, E-Comics, Movies & more online. 
Storytime with Ms. Katie every Wednesday at 10:30
Craft Night: October 5th 5:30 decorate a stack of wooden books. Registration Required
Book Club: October 19th 6:00 "Rebecca" by Daphne Du Maurier
Murder Mystery Game Night: October 23rd 5:30 Registration Required
Pam's Pick this week is: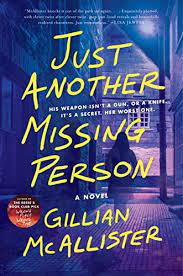 "Just Another Missing Person" by Gillian McAllister, this is the story of missing 22 year old Olivia. She has no history of running away. Detective Julia heads up the case. But Julia has no idea how close to home this case is going to get. Because her family's safety depends on her not finding out what happened to Olivia. What should she do?
New Fiction: "Tom Clancy Weapons Grade" by Don Bentley, "Learned by Heart" by Emma Donoghue, "Good Bad Girl" by Alice Fenney, "The River We Remember" by William Kent Krueger, "Payback in Death" by J. D. Robb, and "Holler, Child: Stories" by Latoya Watkins.
New Large Print: "None of This is True" by Lisa Jewell.
New Christian Fiction: "Letters of Comfort" by Wanda Brunstetter, this is the second book in the Friendship Letters series.
New Mystery: The Longmire Defense" by Craig Johnson, this is a Longmire mystery.
New Biography: 'Counting the Cost: a Memoir" by Jill Duggar.
New Non-Fiction: "God Never Gives Up On You" by Max Lucado, "The Book of (More) Delight: Essays" by Ross Gay, and "Encyclopedia of Native Tribes of North America" by Michael Johnson.
New Audio Books: "Code Red" by Kyle Mills, and "Payback in Death" by J.D. Robb.
New CDs: "Human: the Double Album" by Cody Johnson, and "Now That's What I Call Music, Volume 78."
New Movies: "To Catch a Killer," and "Dorothy and Toto's Storytime: Dorothy and the Wizard in Oz."
New TV Season: "Young Sheldon" season 1.
Happy Reading!
Pam Metts, Director