Library Notes for November 15, 2023 
"I don't have to look far to find treasures. I discover them every time I visit a library." ~Michael Embry 
What's Happening at the Library:   
Don't forget to check us out on Facebook, Instagram, and Pinterest.   
Hoopla is here! You can check out E-Books, E-Audios, E-Comics, Movies & more online.  
Storytime with Ms. Katie every Wednesday at 10:30 
Book Club: November 16th 6:00-7:00 
Game Night: November 20th 5:30-6:30 
Craft Night: November 30th 5:30-7:00 make a DIY Snow Globe 
Pam's Pick this week is: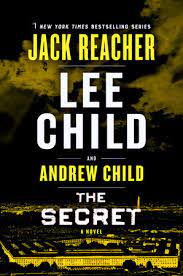 "The Secret" by Lee Child, this is a Jack Reacher novel. When eight respectable people are found dead across the US. Jack Reacher, assigned as the Army's representative, he must discover the link between these victims and who killed them. Reacher searchs around the motives and has to decide if he should bring the bad guys to justice the official way or his way. 
New Fiction: "The Sound of Sleighbells" by Janet Dailey, "The Burnout" by Sophie Kinsella, "The Witch of Maracoor" by Gregory Maguire, this is the third book in the Another Day series, "Wyoming Proud" by Diana Palmer this is a Wyoming Men novel, and "The Christmas Guest" by Peter Swanson. 
New Large Print: "Coldwater Range" by John D. Nesbitt. 
New Christian Fiction: "Marshaling Her Heart" by Mary Connealy, this is the third book in the Wyoming Sunrise series, and "Into the Fire" by Irene Hannon, this is the first book in the Undaunted Courage series. 
New Mystery: "Hercule Poirot's Silent Night" by Sophie Hannah. 
New Biography: "When It's Your Turn to Serve: Experiencing God's Grace in His Calling for Your Life" by Karen Pence. 
New Non-Fiction: "Ripley's Believe It or Not! Level Up," "Hidden Potential: the Science of Achieving Greater Things" by Adam Grant, "Behind the Seams: My Life in Rhinestones" by Dolly Parton, and "Christmas with Southern Living 2023." 
New Audio Books: "Judgment Prey" by John Sandford, and "Bright Lights, Big Christmas" by Mary Kay Andrews. 
New Music: "30" Adele, and "Red: Taylor's Version" by Taylor Swift. 
New Movie: "Air," and "Transformers: Rise of the Beasts." 
New TV Season: "Pretty Little Liars: Original Sin" season 1.   
Happy Reading! 
Pam Metts, Director