Library Notes for November 9, 2023 
"They say in every library there is a single book that can answer the question that burns like a fire in the mind." ~Lemony Snicket 
What's Happening at the Library:   
Don't forget to check us out on Facebook, Instagram, and Pinterest.   
Hoopla is here! You can check out E-Books, E-Audios, E-Comics, Movies & more online.  
Storytime with Ms. Katie every Wednesday at 10:30 
Tea Rex Party: November 13th 5:00-6:00 
Book Club: November 16th 6:00-7:00 
Game Night: November 20th 5:30-6:30 
Craft Night: November 30th 5:30-7:00 make a DIY Snow Globe 
Pam's Pick this week is: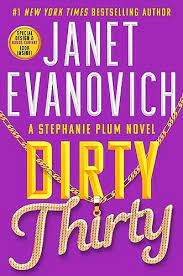 "Dirty Thirty" by Janet Evanovich, our favorite bounty hunter Stephanie Plum is back and taking care of Bob, Joe's giant dog. She also tracks two former security guards of a local jeweler who supposedly stole a fortune in diamonds. This book will keep you laughing from beginning to the end. 
New Fiction: "Bright Lights, Big Christmas" by Mary Kay Andrews, "Wreck the Halls" by Tessa Bailey, "Sword Catcher" by Cassandra Clare, "Distant Sons" by Tim Johnston, "Roman Stories" by Jhumpa Lahiri and "Sisters Under the Rising Sun" by Heather Morris. 
New Christian Fiction: "An Amish Cinderella" by Shelley Shepard Gray, this is the third book in the Amish of Apple Creek, and "The Last Exchange" by Charles Martin. 
New Large Print: "The Exchange" by John Grisham. 
New Biography: "Being Henry: the Fonz…and Beyond" by Henry Winkler. 
New Non-Fiction: "Prequel: An American Fight Against Fascism" by Rachel Maddow, "Solar Power for Beginners" by Douglas Green, "The Pioneer Woman Cooks: Dinner's Ready!" by Ree Drummond, and "Fodor's Las Vegas." 
New Audio Books: "Blood Lines" by Nelson DeMille, and "Dirty Thirty" by Janet Evanovich. 
New Movies: "Strays," and "Elemental." 
New TV Season: "Boardwalk Empire" season 4. 
Happy Reading! 
Pam Metts, Director