Library Notes for September 14, 2023 
"A book, too, can be a star, a living fire to lighten the darkness, leading out into the expanding universe."  ~Madeleine L'Engle, at Library of Congress in 1983 
What's Happening at the Library:   
Don't forget to check us out on Facebook, Instagram, and Pinterest.   
Hoopla is here! You can check out E-Books, E-Audios, E-Comics, Movies & more online.  
Story Time with Ms. Katie every Wednesday at 10:30 
Libby/Hoopla Workshop: September 18th 3:00-4:30  
Game Night: September 18th 5:30 
BINGO: September 25th 5:30 
Pam's Pick this week is: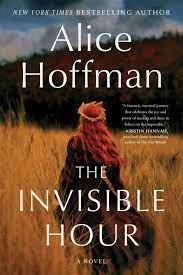 "The Invisible Hour" by Alice Hoffman, this is a novel about a heroine whose life is saved by a book and its author, ever though they live hundreds of years apart. When Mia was a young girl she fell in love with a book. Now as a young woman she falls in love with the writer as she goes back in time. What if the book had never been written or Mia never found it on the day she planned to die? 
New Fiction: "Canary Girls" by Jennifer Chiaverini, "The Trade Off" by Sandie Jones, "Lion & Lamb" by James Patterson, "Gone Tonight" by Sarah Pekkanen, "Tides of Fire" by James Rollins, and "Dragons of Fate" by Margaret Weis, this is the second book in the Dragonlance Destinies series. 
New Large Print: "Love's Dwelling" by Kelly Irvin, this is the first book in the Amish Blessings series. 
New Christian Fiction: "Rocky Mountain Rendezvous" by Misty M. Beller, this is the first book in the Sisters of the Rockies series. 
New Mystery: "Sewing Suspicion" by Kathryn Mykel, this is the first in the Quilting Cozy mystery series.  
New Reference Book: "Occupational Outlook Handbook, 2021-2031." 
New Non-Fiction: "The Dog Encyclopedia," "The Nursing Mother's Companion" by Kathleen Huggins, and "The Book of Outdoor Games" by Emily Philpott. 
New Audio Books: "Dead Fall" by Brad Thor, and "After That Night" by Karin Slaughter. 
New Movies: "Kandahar," and "14 Love Letters." 
New TV Season: "The Flash" season 6. 
Happy Reading! 
Pam Metts, Director