Library Notes for April 12
Today is: "Drop Everything and Read Day!" So stop by the library and pick up something to Drop Everything and READ!
What's Happening at the Library:
Storytime every Wednesday at 10:30 with Ms. Katie
RSVP are still doing TAXES until April 18th call for an appointment
Book Club April 20th in the basement at 6:00: "Gone Girl" by Gillian Flynn
Trivia Night April 27th in the basement from 5:30-6:30
Check out our New Displays
Sign up for our Newsletter
Don't forget to check us out on Facebook, Instagram, and Pinterest.
Spring Book Sale coming soon!
Pam's Pick this week is: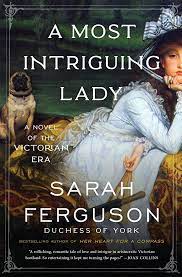 "A Most Intriguing Lady" by Sarah Ferguson Duchess of York, this is a novel of the Victorian Era. Lady Mary Montagu Douglas Scott, is the youngest child of Duke and Duchess of Buccleuch, who moonlights as an amateur sleuth for high society's inner circle. Wealthy victims with their pride and reputation at stake would never go to the police, so Lady Mary must help them. She meets Colonel Walter Trefusis, a distinguished and extremely handsome war veteran. Walter, like Mary, lives a double life, with a desk job in Whitehall providing a front for his role in the British Intelligence Service. The two form an unlikely alliance to solve a series of crimes. Could the two spark a romance too?
New Fiction: "The Cotillion Brigade" by Glen Craney, "Forget What You Know" by Christina Dodd, "Countdown" by James Patterson, this book is also in large print, "Loyalty" by Lisa Scottoline, and "Hang the Moon" by Jeannette Walls, this book is also in large print.
New Christian Fiction: "A Match in the Making" by Jen Turano this is the first book in the Matchmakers series, and "A Novel Proposal" by Denise Hunter.
New Non-Fiction: "Take Control of Your Heart Disease Risk" by John Whyte, "An Absolute Beginner's Guide to Raising Backyard Ducks" by Gail Damerow, "How to Sew Clothes" by Amelia Greenhall, and "But Have You Read the Book?" by Kristen Lopez.
New Audio Books: "Countdown" by James Patterson, "Loyalty" by Lisa Scottoline.
New Movies: "Big Sky River" and "Barbie It Takes Two: Best Friends Forever."
New TV Season: "The Walking Dead" season 11.
Happy Reading!
Pam Metts, Director