Library Notes April 26, 2023 
 It's National Library Week! 
"Librarian hold the keys to universes, open portals to worlds beyond, and dole out dreams to fill our hearts." ~Jamie E. Davis 
 "I would like to say a great big Thank You to the wonderful ladies here at John L. Street Library for making the library the best it can be." ~Pam 
What's Happening at the Library:  
Storytime every Wednesday at 10:30 with Ms. Katie 
Book Club May 18th in the basement at 6:00: "The Great Gatsby" by F. Scott Fitzgerald 
Trivia Night April 27th in the basement from 5:30-6:30 
Sign up for our Newsletter 
Don't forget to check us out on Facebook, Instagram, and Pinterest.  
Spring Book Sale May 1st-6th. Lots of Great Bargains! 
NEW: Hoopla is here! You can check out E-Books, E-Audios, E-Comics, E-Movies & more. Just download the app, and use your library card number to check out up to 10 items a month. 
Pam's Pick this week is: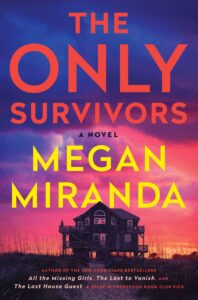 "The Only Survivors" by Megan Miranda, this story is about a group of former classmates who ten years before survived a terrible accident. One the anniversary of the accident one of the survivors disappears. This makes the others wonder if it has something to do with the original tragedy itself.  
New Fiction: "Robert Ludlum's the Treadstone Rendition" by Joshua Hood, "The Perfumist of Paris" by Alka Joshi this is the third book in the Henna Artist series, "Love, Honor, Betray" by Mary Monroe, and "Dark Angel" by John Sandford. 
New Christian Fiction: "Once Upon a Buggy" by Shelley Shepard Gray, this is the second book in the Amish of Apple Creek series, and "Remember Me" by Tracie Peterson, this is the first book in the Pictures of the Heart and also in large print. 
New Mystery: "Lowcountry Getaway" by Susan M. Boyer, this is a Liz Talbot mystery. 
New Biography: "The Road to Unafraid: How the Army's Top Ranger Faced Fear and Found Courage Through "Black Hawk Down" and Beyond" by Jeff Struecker. 
New Non-Fiction: "The Bipolar Disorder Survival Guide: What You and Your Family Need to Know" by  David Miklowitz, "Deliciously Vintage Baking & Desserts" by Victoria Glass, and "Fodor's 2023 New York City" by Kelsy Chauvin. 
 New Audio Books: "The Only Survivors" by Megan Miranda, and "Where are the Children Now?" by Mary Higgins Clark & Alafair Burke. 
New Movies: "Babylon," and "PBS Kids 15 Sports Stories!" 
New TV Season: "Gotham" season 3. 
 Happy Reading! 
Pam Metts