Library Notes for May 3, 2023 
A good book makes you want to live in the story. A Great book gives you no choice." ~unknown 
SPRING BOOK SALE this week. Lots of Great Bargains! 
What's Happening at the Library:  
Storytime every Wednesday at 10:30 with Ms. Katie 
Book Club May 18th in the basement at 6:00: "The Great Gatsby" by F. Scott Fitzgerald 
Sign up for our Newsletter 
Don't forget to check us out on Facebook, Instagram, and Pinterest.  
NEW: Hoopla is here! You can check out E-Books, E-Audios, E-Comics, E-Movies & more. Just download the app, and use your library card number to check out up to 10 items a month. 
Pam's Pick this week is: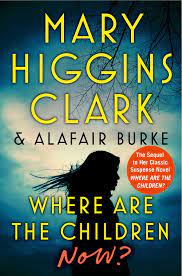 "Where are the Children Now?" by Mary Higgins Clark and Alafair Burke, this is the sequel to her classic "Where are the Children?" written over four decades ago. We met Nancy and her children in the first book. Now, Nancy's daughter Melissa is grown and recently married a man with a young daughter. Melissa's stepdaughter goes missing, bringing back memories of her own abduction. She and her brother Mike race to find Riley, to save her from the trauma they still struggle with or worse. 
New Fiction: "Simply Lies" by David Baldacci, "The Trackers" by Charles Frazier, "Homecoming" by Kate Morton, "The Loner" by Diana Palmer, "Romantic Comedy" and "Beyond That, the Sea" by Laura Spence-Ash. 
New Christian Fiction: "After the Shadows" by Amanda Cabot, this is the first book in the Secret of Sweetwater Crossing series. 
New Mystery: "Collateral Damage" by J. A. Jance. 
New Non-Fiction: "A Fever in the Heartland" by Timothy Egan, "Volcanoes and Earthquakes: a Guide to Our Unquiet Earth" by Chiara Maria Petrone, "The Wisdom of the Bullfrog: Leadership Made Simple (But Not Easy)" by William McRaven, and "Creative Family Home" by Ashley Gibson. 
New Audio Books: "Simply Lies" by David Baldacci, and "The Loner" by Diana Palmer. 
New Movies: "North to Home," and "Blue's Big City Adventure." 
New TV Season: "Reacher" season 1. 
Happy Reading! 
Pam Metts, Director