Library Notes for May 10, 2023 
"If you read one book a week, starting at the age of 5, and live to be 80, you will have read a grand total of 3,900 books, a little over one-tenth of 1 percent of the books currently in print." ~ Lewis Buzbee 
What's Happening at the Library:  
Storytime every Wednesday at 10:30 with Ms. Katie 
Book Club May 18th in the basement at 6:00: "The Great Gatsby" by F. Scott Fitzgerald 
Sign up for our Newsletter 
Don't forget to check us out on Facebook, Instagram, and Pinterest.  
NEW: Hoopla is here! You can check out E-Books, E-Audios, E-Comics, E-Movies & more. Just download the app, and use your library card number to check out up to 10 items a month. 
Pam's Pick this week is: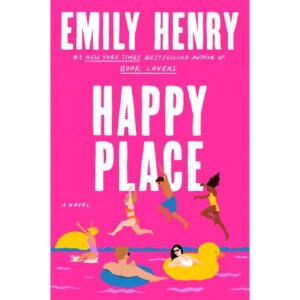 "Happy Place" by Emily Henry, this is the story of a couple who break up after nearly a decade, but pretend to still be together for their annual best friend's vacation. Harriet and Wyn were the perfect couple, but now for some unknown reason they aren't. Will they get away without telling their friends for a week or will the friends find out and try to get them back together?     
New Fiction: "Forgotten War" by Don Bentley, this is the fourth Matt Drake novel, "Earth's the Right Place for Love" by Elizabeth Berg, "On the Line" by Fern Michaels, "The Rescue" by T. Jefferson Parker, "Strawberry Lane" by Jodi Thomas this is the first book in the Someday Valley series, and "Two Wars and a Wedding" by Laruen Willig. 
New Christian Fiction: "Second Time Around" by Melody Carlson, and "A Brighter Dawn" by Leslie Gould, this is the first book in the Amish Memories series. 
New Mystery: "The Enigma of Garlic" by Alexander McCall Smith, this is a 44 Scotland Street series novel. 
New Biography: "George VI and Elizabeth: the Marriage that Saved the Monarchy" by Sally Bedell Smith. 
New Non-Fiction: "Heroes are Human: Lessons in Resilience, Courage, Wisdom from the COVID Front Lines" by Bob Delaney, "Complete Horse Riding Manual" by William Micklem, and "The Secret Gate: a True Story of Courage and Sacrifice During the Collapse of Afghanistan" by Mitchell Zuckoff. 
New Audio Books: "The Trackers" by Charles Frazier, and "The Soulmate" by Sally Hepworth. 
New Movies: "Plane" and "The Son." 
New TV Season: "The Fresh Prince of Bel-Air" season 5. 
Happy Reading! 
Pam Metts, Director