Library Notes for May 17, 2023 
"In the nonstop tsunami of global information, librarians provide us with floaties and teach us to swim." Linton Weeks  
What's Happening at the Library:  
Storytime every Wednesday at 10:30 with Ms. Katie 
Book Club May 18th in the basement at 6:00: "The Great Gatsby" by F. Scott Fitzgerald 
Sign up for our Newsletter 
Don't forget to check us out on Facebook, Instagram, and Pinterest.  
NEW: Hoopla is here! You can check out E-Books, E-Audios, E-Comics, E-Movies & more. Just download the app, and use your library card number to check out up to 10 items a month. 
Juneteenth Celebration: June 17th, 3:00-5:00 in the basement of the library. This program is given in part by Kiburi Circle and Calandra Watts. 
Donuts and Coffee with Veterans! June 19th, 9:30. This is a program is given by the Kentucky Dept. of Veterans Affairs to help veterans with claims, disability, education, and legal services. You must call the library to sign up: 270-522-6301
Pam's Pick this week is: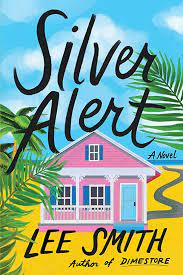 "Silver Alert" by Lee Smith, this is a funny novel about family, secrets, and aging. Herb is an aging alone with his dear wife Susan, who needs constant care. When the kids come to intervene Herb decides to go on one last joy ride in his Porsche. He also decides to take his wife's manicurist along for the ride, soon setting off a Silver Alert. 
New Fiction: "Breakneck" by Marc Cameron, "The Cuban Heiress" by Chanel Cleeton, "The Soulmate" by Sally Hepworth, "In the Lives of Puppets" by T.J. Klune, "Small Mercies" by Dennis Lehane, and "Only the Beautiful" by Susan Meissner. 
New Large Print: "One Last Chance" by Kat Martin, this is the third book in the Blood Ties, the Logans.  
New Christian Fiction: "When He Found Me" by Victoria Bylin, this is the first book in the Road to Refuge series. 
New Mystery: "Mother of the Bride Murder" by Leslie Meier. 
New Biography: "Honey, Baby, Mine: a Mother and Daughter Talk Life, Death, Love (and Banana Pudding)" by Laura Dern & Diane Ladd. 
New Non-Fiction: "Wildflowers of North America" by Damian Fagan, "Flight: the Complete History of Aviation" by R.G. Grant, "The Ball in the Air: a Golfing Adventure" by Michael Bamberger, and "The Wager: a Tale of Shipwreck, Mutiny and Murder" by David Grann. 
New Audio Books: "The Way of the Bear" by Anne Hillerman, and "My Heart Will Find You" by Jude Deveraux. 
New Movies: "Cocaine Bear," and "Thomas & Friends: the Mystery of Lookout Mountain. 
New TV Season: "Blue Bloods" season 9. 
Happy Reading! 
Pam Metts, Director