Library Notes for May 24, 2023 
"A book, too, can be a star, a living fire to lighten the darkness, leading out into the expanding universe."  ― Madeleine L'Engle 
What's Happening at the Library:  
Sign up for our Newsletter 
Don't forget to check us out on Facebook, Instagram, and Pinterest.  
NEW: Hoopla is here! You can check out E-Books, E-Audios, E-Comics, E-Movies & more. Just download the app, and use your library card number to check out up to 10 items a month. 
Juneteenth Celebration: June 17th, 3:00-5:00 in the basement of the library. This program is given in part by Kiburi Circle and Calandra Watts. 
Donuts and Coffee with Veterans! June 19th, 9:30. This is a program is given by the Kentucky Dept. of Veterans Affairs to help veterans with claims, disability, education, and legal services. You must call the library to sign up: 270-522-6301  
Game Night: June 19th 5:30-7:30 Join us for Game Night! There will be board games, card games, and more! You are welcome to bring your own board games to play. Game Night is for all game lovers! 
Pam's Pick this week is: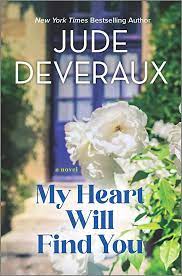 "My Heart Will Find You" by Jude Deveraux, this is the story of Etta, a young woman trying to find her spot in life. When she meets Henry an older gentleman looking for a caretaker she settles into a companionable living arrangement. Etta indulges in Henry's library and soon is dreaming of the Midwest and being a mail order bride. She can only hope of finding love like that in her life. 
New Fiction: "Tom Clancy Flash Point" by Don Bentley, "The Way of the Bear" by Anne Hillerman, "Summer on Sag Harbor" by Sunny Hostin, this is the second book in the Oak Bluff series, "With my Little Eye" by Joshilyn Jackson, "The True Love Experiment" by Christina Lauren, "The 23rd Midnight" by James Patterson, and "Not the Ones Dead" by Dana Stobenow. 
New Christian Fiction: "Hopefully Ever After" by Beth Wiseman, this is the third book in the Amish Bookstore series. 
New Large Print: "Settling His Hash" by William W. Johnstone, this is the fifth book in the Chuckwagon Trail series.  
New Mystery: "City Walls" by Loren D. Estleman. 
New Non-Fiction: "The Best of Reminisce 2023," "You Are Not Alone: the NAMI Guide to Navigating Mental Health" by Ken Dockworth, "Cooking a la Heart: 500 Easy and Delicious Recipes to Help Make Every Meal Heart Healthy" by Linda Hachfeld, and "Homegrown: Timothy McVeigh and the Rise of Right-Wing Extremism" by Jeffrey Toobin. 
New Audio Book: "Dark Angel" by John Sandford. 
New Movies: "80 for Brady," and "All Quiet on the Western Front." 
New TV Season: "Yellowstone" season 5: Volume 1. 
 Happy Reading! 
Pam Metts, Director