Library Notes for June 7, 2023 
"What an astonishing thing a book is, one glance and you're inside the mind of another person." ~Carl Sagan 
What's Happening at the Library:  
We are getting ready for Summer Reading! It's the most fun of summer! Sign up today at the front desk. 
Sign up for our Newsletter 
Don't forget to check us out on Facebook, Instagram, and Pinterest.  
NEW: Hoopla is here! You can check out E-Books, E-Audios, E-Comics, Movies & more. Just download the app, and use your library card number to check out up to 10 items a month. 
Craft Night: Thursday, June 8th, 5:30-6:30. Come decorate a Travel Cup! Please call the library to sign-up 
Juneteenth Celebration: June 17th, 3:00-5:00 in the basement of the library. This program is given in part by Kiburi Circle and Calandra Watts. 
Donuts and Coffee with Veterans! June 19th, 9:30. This is a program is given by the Kentucky Dept. of Veterans Affairs to help veterans with claims, disability, education, and legal services. You must call the library to sign-up: 270-522-6301.  
Game Night: June 19th 5:30-7:30 Join us for Game Night! There will be board games, card games, and more! You are welcome to bring your own board games to play. Game Night is for all game lovers! 
Pam's Pick this week is: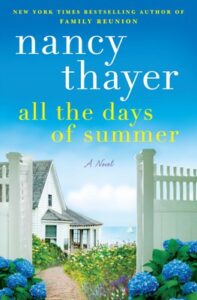 by Nancy Thayer, this is the story of Heather Willette who is at a turning point in her life. Her marriage is on the fritz, her son is graduating college and has a serious girlfriend. She moves to Nantucket where her son's girlfriend Kailee lives. Heather and Kailee have clashed since the day they met. But anything is possible in the summer sun and sea breezes of Nantucket, even reconciliation.  
New Fiction: "The Lie Maker" by Linwood Barclay, "Shadow of Death" by Heather Graham, "The Making of Another Major Motion Picture Masterpiece" by Tom Hanks, "The Private Life of Spies and the Exquisite Art of Getting Even" by Alexander McCall Smith, "The Fourth Enemy" by Anne Perry, this book is also in large print, "Identity" by Nora Roberts, "To Swoon and to Spar" by Martha Waters, this is the fourth book in the Regency Vows series, and "The House on Prytania" by Karen White, this is the second book in the Royal Street series.  
New Christian Fiction: "Breaking New Ground" by Amy Clipston, this is the third book in the Amish Legacy series. 
New Biography: "LeBron" by Jeff Benedict. 
New Non-Fiction: "Insects of North America" by John & Kendra Abbott, "The Vaccine Book: Making the Right Decision for Your Child" by Robert Sears, and "111 Places for Kids in New York that You Must Not Miss" by Evan Levy. 
New Audio Books: "The Wedding Planner" by Danielle Steel, and "Black Candle Women" by Diane Marie Brown. 
New Movies: "Creed III," and "Mother Goose World: Old Granny Fox." 
New TV Season: "The Resident" season 2.  
Happy Summer Reading! 
Pam Metts, Director