Library Notes for June 21, 2023 
Sign Up for Summer Reading Fun! 
What's Happening at the Library:  
Don't forget to check us out on Facebook, Instagram, and Pinterest.  
Hoopla is here! You can check out E-Books, E-Audios, E-Comics, Movies & more online. 
All Together Now Summer Reading Program for ages 2-12 every Wednesday in July at 10:30 & 12:30 
Special Presenters July 12th: Woodlands Nature Station 10:30 & 12:30 
July 26th: Runaway Puppet Theater 10:30 & 12:30 
Family Events: July 17th-22nd Storywalk; July 17th Movie Night "Monsters University" 6-8:30
July 24th Puzzle Tournament 6:00 
Adult Summer Reading Book Club: July 20th "Bloomsbury Girls" by Natalie Jenner, at 6:00 
Teen & Tween Summer Reading: July 10th: Interactive Mystery Party 6-8 
Other Summer Fun: Harry Potter Trivia Night July 31st 6:00  
Pam's Pick this week is: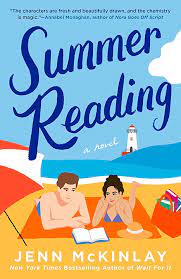 "Summer Reading" by Jenn KcKinlay, this is the story of Samantha who'd rather do anything but spend her summer reading but then she meets Bennett, a bookworm. Sam and Ben's summer fling just may turn into a happily ever after.   
New Fiction: "Only the Dead" by Jack Carr, this is the sixth book in the Terminal List series, "The Little Flower Shop" by Lori Foster, "Fire with Fire" by Candice Fox, "The Secret Book of Flora Lea" by Patti Callahan Henry, "Bad, Bad Seymour Brown" by Susan Isaacs, "The Half Moon" by Mary Beth Keane, "The Time Has Come" by Will Leitch, "Fractal Noise" by Christopher Paolini, "The Bride Wore White" by Amanda Cook, "Atlas: the Story of Pa Salt" by Lucinda Riley, this is the eighth book in the Seven Sisters series, "The Libyan Diversion" by Joel C. Rosenberg, "The Old Lion: a Novel of Theodore Roosevelt" by Jeff Shaara, "Independence Square" by Martin Cruz Smith, "Between Two Strangers" by Kate White, and "The Boyfriend Candidate" by Ashley Winstead.  
New Large Print: "The Wedding Planner" by Danielle Steel. 
New Christian Fiction: "The Weaving of Life" by Linda Byler, this is the first book in the New Directions series, "The Secret to Happiness" by Suzanne Woods Fisher, this is the second book in the Cape Cod Creamery series, and "The Tapestry of Grace" by Kim Vogel Sawyer. 
New Mysteries: "Murder on Mustang Beach" by Alicia Bessette, this is the second book in the Outer Banks Bookshop series, and "Antiques Carry On" by Barbara Allan, this is a Trash n' Treasures mystery and only in large print. 
New Biography: "Timothy Keller: His Spiritual and Intellectual Formation" by Collin Hansen. 
New Non-Fiction: "Koresh: the True Story of David Koresh and the Tragedy at Waco" by Stephan Talty, "The Ultimate Thyroid Book" by Beverly Goode-Kanawati, "The Best of Jelly Roll Quilts" by Pam & Nicky Lintott, "A Song and a Prayer" by Loretta Lynn, "Taste of Home Farmhouse Family Dinners," "A Parent's Guide to Gifted Children: a Resource for Caregivers and Advocates" by Edward Amend, and "History: the Definitive Visual Guide." 
New Audio Books: "Swamp Story" by Dave Barry, "23rd Midnight" by James Patterson, "Identity" by Nora Roberts, and "All the Days of Summer" by Nancy Thayer. 
New Movies: "65," "Gigantosaurus: Dino Discovery," "Knock at the Cabin," and "Sweet Carolina." 
New TV Seasons: "Joe Pickett" season 1, and "Supergirl" season 5. 
 Happy Summer Reading! 
Pam Metts, Director