Library Notes for June 29, 2023
When You Can Read
When you can read, 
then you can go from Kalamazoo to Idaho
Or read directions that explain
just how to build a model plane
Or bake a cake or cook a stew
The words will tell you what to do!
When you can read, then you can play
a brand new game the proper way
Or get a letter from a friend
and read it…to the very end. ~Bobbi Katz
Sign Up for Summer Reading Fun! 
What's Happening at the Library:  
Don't forget to check us out on Facebook, Instagram, and Pinterest.  
Hoopla is here! You can check out E-Books, E-Audios, E-Comics, Movies & more online. 
All Together Now Summer Reading Program for ages 2-12 every Wednesday in July at 10:30 & 12:30 
Special Presenters July 12th: Woodlands Nature Station 10:30 & 12:30 
July 26th: Runaway Puppet Theater 10:30 & 12:30 
Family Events: July 17th-22nd Story walk; July 17th Movie Night "Monsters University" 6-8:30
July 24th Puzzle Tournament 6:00 
Adult Summer Reading Book Club: July 20th "Bloomsbury Girls" by Natalie Jenner, at 6:00 
Teen & Tween Summer Reading: July 10th: Interactive Mystery Party 6-8 
Pam's Pick this week is: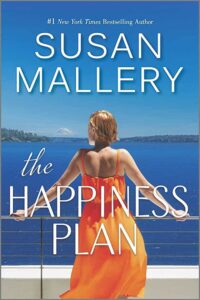 "The Happiness Plan" by Susan Mallery, the story of Heather, who is a successful business women with a cute cat and two of the best friends ever. So when her ex starts a serious relationship her world falls apart. But she has a happiness plan.
New Fiction: "Weapons of Opportunity" by Dale Brown, "The Senator's Wife" by Liv Constantine, "The Ferryman" by Justin Cronin, "Love, Theoretically" by Ali Hazelwood, "Cross Down" by James Patterson, "Tom Clancy's Op-center Fallout" by Jeff Rovin, and "The King's Pleasure" by Alison Weir, this is the second book in the Tudor Rose series.
New Large Print: "On the Way to the Wedding" by Julia Quinn, this is the eighth book in the Bridgerton series.
New Christian Fiction: "In the Shadow of the River" by Ann H. Gabhart.
New Mystery: "The Body in the Web" by Katherine Hall Page.
New Biography: "Never Give UP: a Prairie Family's Story" by Tom Brokaw.
New Non-Fiction: "Budgeting for Dummies" by Athena Lent, "Living Well with a Serious Illness: a Guide to Palliative Care for Mind, Body, and Spirit" by Robin Kanarek, and "111 Places in Washington That You Must Not Miss" by Andrea Seiger.
New Audio Books: "Tom Clancy Flash Point" by Don Bentley, and "The Happiness Plan" by Susan Mallery.
New CDs: "Where Have You Gone" by Alan Jackson, and "Now That's What I Call Country Classics 80s."
New Movies: "One Day as a Lion," and "The Super mario Bros. Movie."
New TV Season: "The Golden Girls" season 7.
Happy Summer Reading!
Pam Metts, Director