Library Notes for August 24, 2023 
"Books, minds, and umbrellas only work if they're open." ~unknown 
It time to sign up for Story Time. Ms. Katie is getting ready for a wonderful year of Books, Crafts, and fun! Story Time will start at 10:30 on Wednesday, September 6th. 
What's Happening at the Library:   
Don't forget to check us out on Facebook, Instagram, and Pinterest.   
Hoopla is here! You can check out E-Books, E-Audios, E-Comics, Movies & more online.  
Book Sale: August 30-September 2, W-F 9:30-4:30 & Sat. 9:00-12:00 
Story Time with Ms. Katie every Wednesday at 10:30 
Game Night: September 18th 
BINGO: September 25th 
Pam's Pick this week is: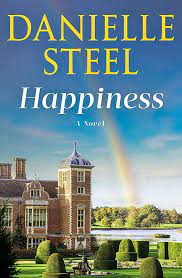 "Happiness" by Danielle Steel, this is the uplifting story of an author who inherits a grand estate near London. Sabrina Brooks is a successful, bestselling author of thrillers. Determined to sell the estate quickly and return home, Sabrina is surprised by how much she loves the historic manor. As she learns more about her family's history, she begins to wonder what life would be like as Lady Brooks. Is she brave enough to choose a new life? 
New Fiction: "Out of Nowhere" by Sandra Brown, "Sleepless City" by Reed Farrel Coleman, this is the first book in the Nick Ryan series, "Secrets in the Dark" by Heather Graham, this is the second book in the Blackbird trilogy series, "The Last Ranger" by Peter Heller, "The Long Ago" by Michael McGarrity, "Ramon and Julieta" by Alana Quintana Albertson, this is the first book in the Love and Tacos series, and "The Wishing Game" by Meg Shaffer. 
New Christian Fiction: "Beyond the Tides" by Liz Johnson, this is the first book in the Prince Edward Island Shores series. 
New Mystery: "Muddled Through" by Barbara Ross, this is a Maine Clambake mystery and only in large print. 
New Non-Fiction: "Tangled Vines: Power, Privilege, and the Murdaugh Family Murders" by John Glatt, "The Art Playroom: Make a Home Art Space for Kids" by Megan Schiller, "Football for Dummies" by Howie Long, and "Essential Guide to Kentucky Family Research" by Kentucky Genealogical Society. 
New Audio Books: "After Death" by Dean Koontz, and "Hello Stranger" by Katherine Center. 
New Movies: "Fast X," and "PBS Kids-We Love Camping!" 
New TV Season: "Ray Donovan" season 1. 
Happy Reading! 
Pam Metts, Director