Library Notes for October 11, 2023 
Libraries are a cornerstone of democracy, where information is free and equally available to everyone. People tend to take that for granted, and they don't realize what is at stake when that is put at risk." ~Carla Hayden 
What's Happening at the Library:   
Don't forget to check us out on Facebook, Instagram, and Pinterest.   
Hoopla is here! You can check out E-Books, E-Audios, E-Comics, Movies & more online.  
Storytime with Ms. Katie every Wednesday at 10:30 
Book Club: October 19th 6:00 "Rebecca" by Daphne Du Maurier 
Murder Mystery Game Night: October 23rd 5:30 Registration Required 
Fall Book Sale: October 25th -28th  
Craft Table all month with a different craft each week 
Pam's Pick this week is: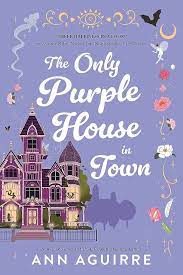 "The Only Purple House in Town" by Ann Aguirre, this is the story of Eli Reese who is renting a room in Iris Collins's house, which is a haven for lost souls. The wealthy app designer becomes enchanted by the misfit boarders and even more so by Iris. She was his first crush from long ago, and wonders if he's finally found a person and a place to call "home." 
New Fiction: "Traitors Gate" by Jeffrey Archer, "North of Nowhere" by Allison Brennan, "Clive Cussler Condor's Fury" by Graham Brown, "The Running Grave" by Robert Galbraith, and "12 Months to Live" by James Patterson. 
New Christian Fiction: "A Beautiful Disguise" by Roseanna M. White this is the first book in the Imposters series. 
New Large Print: "Shadow Dance" by Christine Feehan, this is the eighth book in the Shadow Riders series. 
New Mysteries: "Big Trouble on Sullivan's Island" by Susan M. Boyer, this is the first book in the Carolina Tale series, and "Halloween Cupcake Murder" by Carlene O'Connor. 
New Biography: "Astor" by Anderson Cooper. 
New Non-Fiction: "Build the Life You Want: the Art and Science of Getting Happier" by Arthur Brooks & Oprah Winfrey, "The Democrat Party Hates America" by Mark Levin, "The Home Edit: Stay Organized" by Clea Shearer, and "5-Minute Sketching: Landscapes" by Virginia Hein. 
New Audio Books: "Tom Clancy Weapons Grade" by Don Bentley, and "The Keeper of Hidden Books" by Madeline Martin. 
New Movies: "Moving On" and "Ruby Gillam, Teenage Kraken." 
New TV Season: "Interview with the Vampire" season 1. 
Happy Reading! 
Pam Metts, Director