Library Notes for October 18, 2023
"The very existence of libraries affords the best evidence that we may yet have hope for the future of man." ~T.S. Eliot
What's Happening at the Library:  
Don't forget to check us out on Facebook, Instagram, and Pinterest.  
Hoopla is here! You can check out E-Books, E-Audios, E-Comics, Movies & more online. 
Storytime with Ms. Katie every Wednesday at 10:30
Book Club: October 19th 6:00 "Rebecca" by Daphne Du Maurier
Murder Mystery Game Night: October 23rd 5:30 Registration Required
Fall Book Sale: October 25th -28th
Craft Table all month with a different craft each week
Family Trivia Night November 2nd 5:30-6:30
Tea Rex Party November 13th 5:00-6:00
Game Night November 20th 5:30-6:30
Pam's Pick this week is: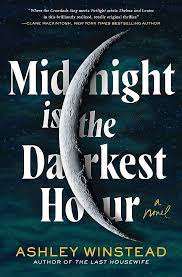 "Midnight in the Darkest Hour" by Ashley Winstead, this is a twisted tale of murder, obsessive love, and the beastly urges that lie within us. Ruth Cornier is a small town librarian who has always felt like an outsider. When horror strikes her small town, Ruth and her friend Everett are the only ones with the power to search the town's secret underbelly for the true evil and destroy it before it destroys them.
New Fiction: "Memory and Desire" by Philip Caputo, "The Oceans and the Stars" by Mark Helprin, "Chenneville" by Paulette Jiles, "The Traitor Among Us" by Anne Perry, "Kiss Me, Mi Amor" by Alana Quintana Albertson, this is the second book in the Love & Tacos series, and "Judgment Prey" by John Sandford.
New Christian Fiction: "Tapestry of Love" by Linda Byler, this is the second book in the New Directions series, and "The Last Way Home" by Liz Johnson, this is the second book in the Prince Edward Island Shores series.
New Mystery: "The Raging Storm" by Ann Cleeves, and "The Last Devil to Die" by Richard Osman.
New Biography: "Playin' Possum: My Memories of George Jones" by Nancy Jones.
New Non-Fiction: "Creating Your Vintage Halloween: the Folklore, Traditions, and Some Crafty Makes" by Marion Paull, "Quick Functional Exercises for Seniors" by Cody Sipe, "Renovation" by Michael Litchfield, and "Why We Love Baseball: a History in 50 Moments" by Joe Posnanski.
New Audio Books: "Holly" by Stephen King, and "Clive Cussler Condor's Fury" by Graham Brown.
New Movies: "Nefarious," and "Spider-Man: Across the Spider-Verse."
New TV Season: "Transformers: EarthSpark" season 1.
Happy Reading!
Pam Metts, Director