Library Notes for October 25, 2023 
"I think of life as a good book. The further you get into it, the more it begins to make sense." ~ Harold Kushner 
What's Happening at the Library:   
Don't forget to check us out on Facebook, Instagram, and Pinterest.   
Hoopla is here! You can check out E-Books, E-Audios, E-Comics, Movies & more online.  
Storytime with Ms. Katie every Wednesday at 10:30 
Fall Book Sale: October 25th -28th  
Craft Table: all month with a different craft each week 
Family Trivia Night: November 2nd 5:30-6:30 
Tea Rex Party: November 13th 5:00-6:00 
Book Club: November 16th 6:00-7:00 
Game Night: November 20th 5:30-6:30 
Pam's Pick this week is: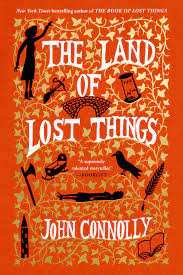 "The Land of Lost Things" by John Connolly, this is a sequel to "The Book of Lost Things."  This is the story of a mother's love for her child. As Ceres sets by her daughter's bedside reading aloud the fairytale stories she loves. Ceres is called to a land of memories of her childhood and the folklore of her beloved father, where old enemies are watching and waiting. Will a Mother's love be enough to save her daughter?  
New Fiction: "Normal Rules Don't Apply: Stories" by Kate Atkinson, "The Exchange" by John Grisham, "All the Dead Shall Weep" by  Charlaine Harris, this is the fifth book in the Gunnie Rose series, "23 ½ Lies" by James Patterson, and "The Fragile Threads of Power" by V. E. Schwab. 
New Christian Fiction: "Wildflower Falls" by Denise Hunter, this book is also in large print, and "Until Then" by Cindy Woodsmall. 
New Biography: "Not That Fancy: Simple Lessons on Living, Loving, Eating, and Dusting Off Your Boots" by Reba McEntire.  
New Non-Fiction: "American Ghost Stories: True Tales From All 50 States" by Michael Kozlowski, "The Illustrated Catalog of Rifles and Shotguns" by David Miller, "The Wingmen: the Unlikely, Unusual, Unbreakable Friendship Between John Glenn and Ted Williams" by Adam Lazarus, and "The Ultimate 70s Collection." 
New Audio Books: "Killing the Witches" by Bill O'Reilly, and "All the Dead Shall Weep" by Charlaine Harris. 
New Movies: "Evil Dead Rise," and "Monster High: The Movie." 
New TV Season: "The Good Fight" season 1. 
Happy Reading! 
Pam Metts, Director