Library Notes for November 1, 2023
"Autumn's sweet whisper, requires a good book and a warm drink." ~LaDonne Aldon
What's Happening at the Library:  
Don't forget to check us out on Facebook, Instagram, and Pinterest.  
Hoopla is here! You can check out E-Books, E-Audios, E-Comics, Movies & more online. 
Storytime with Ms. Katie every Wednesday at 10:30
Family Trivia Night: November 2nd 5:30-6:30
Tea Rex Party: November 13th 5:00-6:00
Book Club: November 16th 6:00-7:00
Game Night: November 20th 5:30-6:30
Pam's Pick this week is: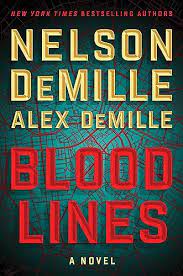 "Blood Lines" by Nelson DeMille, this is the second Scott Brodie novel. CIA Scott Brodie and Maggie Taylor are tasked with investigating the murder of CID Special Agent Harry Vance.  Unfortunately, Brodie and Taylor realize that his murder was just the prelude to a much more sinister future event and they must unravel the mystery in time to stop it.
New Fiction: "Part of Your World" by Abby Jimenez, "The Leftover Woman" by Jean Kwok, "The Coworker" by Freida McFadden, "Second Act" by Danielle Steel, "Let Us Descend" by Jesmyn Ward, and "Obsession" by Stuart Woods.
New Christian Fiction: "Against the Wind" by Amanda Cabot, this is the second book in the Secret of Sweetwater Crossing series, and "The Heirloom" by Beverly Lewis, this book is also in large print.
New Mystery: "No Reserve" by Felix Francis.
New Biography: "Make it So: a Memoir" by Patrick Stewart.
New Non-Fiction: "Collision of Power: Trump, Bezos, and the Washington Post" by Martin Baron, "Going Infinite: the Rise and Fall of a New Tycoon" by Michael Lewis, "Birds in Every Season" by Birds & Blooms, and "Heirloom Rooms: Soulful Stories of Home" by Erin Napier.
New Audio Books: "23 ½ Lies" by James Patterson, and "Blessing of the Lost Girls" by J.A. Jance.
New Movies: "Haunted Mansion" and "Barbie."
New TV Season: "CSI" season 10.